Wild India under attack from people and climate
11 November 2007
Between Delhi and Varanasi we pass three nature reserves, each one fighting for survival against a different predator. The Sariska Tiger Reserve, Keoladeo Ghana and Panna parks are variously menaced by poachers, farmers and climate change.
With its 93 national parks and 486 nature reserves, India is the ideal place to observe wild nature – well, at least in theory. Of the country's 90,000 animal species, 215 are in danger of extinction, including tigers, unicorn rhinos, turtles, elephants, Ganges dolphins and bears. For the locals, the problem of biodiversity loss takes on a particular form: "How long will tourists continue to visit reserves without tigers and bird sanctuaries without birds?"
Langur monkeys are omnipresent in India, from the Himalayas to the Ganges plains.
"Are there really no tigers left in the Sariska Tiger reserve?" we naively ask one of the many road-side "guides" who, drawn by our bikes, are always extremely keen to help (sometimes even too keen). "Only on the postcards!" is the provocative reply. It's now been two years since the last of Sariska's tigers was killed by the poachers. Whose at fault? Those who pull the trigger, or those who pay through the roof for tiger skins to hand up as trophies and the animals' ground-up bones, believing they have aphrodisiac properties? And at the end of the day, who will complain about the disappearance of these dangerous felines? Surely not the local villagers, thankful for the new-found safety of their cattle and for fresh farmland.
Continuing the discussion with our improvised guide, we understand that while profit made the tigers disappear, it could also provide the driving force to bring them back. Since the lack of tigers at Sariska Tiger Reserve was discovered, hotel and restaurant owners, souvenir merchants and others in the tourism trade have seen their income streams dry up. The whole industry that once flourished on foreign dollars is now pressing for the return of the tigers and with them of the hunters of images with pockets full of "money, money." But for a successful reintroduction, between 2000 and 5000 of villagers much be displaced.
Like the other tourists, we bypass this sad reserve and instead visit a bird sanctuary near Agra, the Keoladeo Ghana reserve, a former Maharaja's hunting ground now classed as a world heritage site by UNESCO. "How many migratory bird species can one find in the Keoladeo Ghana park?" we ask our guide to the park, Amar. "Very few this year, and last year wasn't any better … there wasn't enough rain during the monsoon, the lakes have dried up, and migratory birds go to look for food elsewhere." In colonial times, the reserve was a real hunters' paradise. A roadside sign reminds us of some sad records: those of the best hunters, such as Lord Linlithgow who killed 4273 ducks in 39 shots. Visiting the park at dawn, by bicycle, nevertheless provides us with a rare few hours of complete tranquility and allows us to observe eagles, antilopes, impalas, but also, unexpectedly, the occasional cow grazing in the freshly-grown savannah environment that ahs replaced the lakes. The proliferation of spiky plants has made regular pruning necessary, making the reserve resemble a managed forest in places.
Proposals to re-hydrate the reserve by changing the course of a nearby river has met with opposition from local farmers, and the park authorities have chosen to put in place a network of pipes to pump water from underground at several points, thus recreating artificial wetlands where a few herons and water turtles are surviving… These efforts strangely reminded us of the Uzbek fishermen desperately digging access channels leading to the Aral Sea, which receded a few kilometers each year before disappearing completely from reach behind a buffer zone of sinking sands.
Not fully satisfied by this visit, we decide to try our luck further along the way, in Panna national park, near Khajuraho. "Are there still tigers in the park?" This time, the answer is more encouraging: "Yes, 35 – 10 males, 16 females and 9 cubs," our guide lists proudly, at the same time justifying the entry price of 500 rupees (10 euros, to be multiplied by 80 visitors per day). A drive through the park in a 4x4 – the only type of vehicle permitted – leads through great forested hills, grass savannas populated by numerous sambars, chittals (deer), gazelles and monleys. The Ken river shelters crocodiles including a few that had been bred in captivity. As for the tigers, they seem to have a sufficiently vast territory to roam freely and find food. We didn't seen any of them, only their paw-prints in the sand, but maybe it's for the better – tigers don't like being disturbed. Despite the impression that the park is in healthy and thriving, there are fears as to the effects of human presence on its well-being – not tourists, but the inhabitants of 4 or 5 villages still present inside the park, tolerated by the authorities, or rather waiting to be re-settled. As everywhere in India, growing demographic pressure brings with it an increasing need for natural resources: land, wood and water. Competition between man and wild animals seems disproportional. How much longer can we maintain this fragile balance?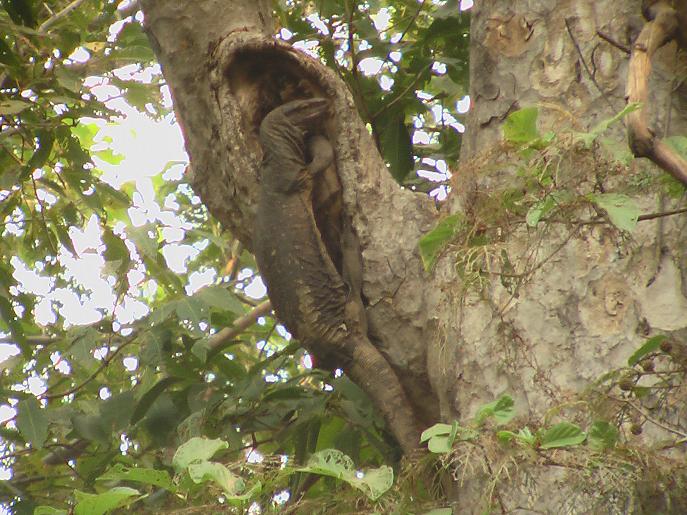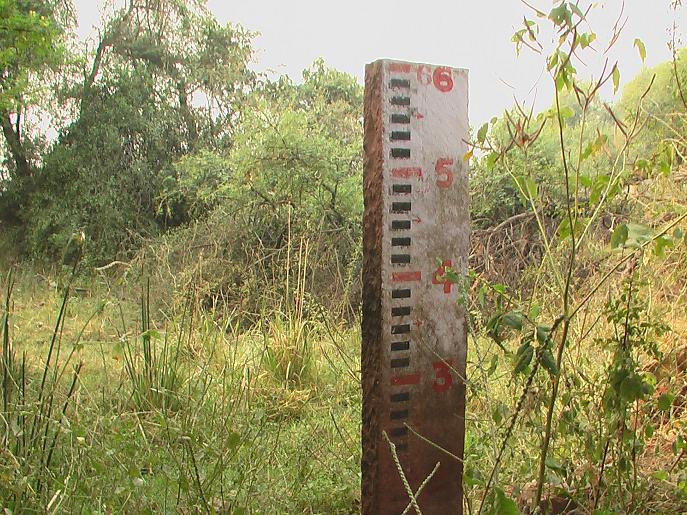 Your messages :