Indian subcontinent
October 2007 ,
After crossing the Himalayas in Pakistan, we had our first experience of over-populated Asia as we entered India with its crazy traffic and pollution. Since independance and partition, these two countries, full of contrasts, have followed two completely different development paths.
Pakistan Objective: getting out of the country before the elections. It's not exactly the most popular of tourist destinations at the moment. European foreign affairs ministries strongly recommend putting all unessential travel to the country on hold, especially in the North-East provinces bordering Afghanistan and Balouchistan which borders Iran. Nevertheless, all the travelers we met in Kashgar reassured us that the North is very hospitable (Ismaili Muslims) as is Punjab, near the Indian border. South of Gilgit, though, it's better to cross Indus Kohistan by bus – the atmosphere can be a bit heavy for foreigners: wearing the "shalwar kameez" (traditional Pakistani dress that seems designed to cover all traces of a feminine figure) is almost mandatory. All the men are bearded and all the women veiled. The political situation inside the country was relatively heated ahead of the October 6th presidential elections, which were to determine whether president - general Musharraf would continue to lead the country. We preferred to get out of Pakistan before the election date, even if the month of Ramadan (13 September - 12 October) tends to be generally peaceful.
Bus route in yellow, cycle route in red
– 25- 26 Sept: Around Passu. We were only allowed off the official Chinese border-crossing bus at Sost, 85 km from the border pass, once we had passed immigration. We continued to Passu where a day of trekking took us to Passu lake and glacier, and the 56km-long Batura glacier glacier.
– 27- 28 Sept: Karimabad. The former capital of Hunza – the valley-state famous for hospitality, longevity and peace. Tourism flourishes here thanks to breath-taking views and summits over 7000m dotting the sky-line. Another day of trekking takes us to the Ultar glacier.

Read "The Himalayan ice fortress under climate attack".
– 29- 30 Sept: Minapin. Only 25 km from Karimabad, Minapin is a charming little village with paths borded by marijuana bushes… From here, walkers head for the base camp of the Rakaposhi, a summit of over 7700m. We go up to the camp with Piotr the Polish cyclist, who we previously met in Kashgar.
– 1- 3 Oct: Cycling to Gilgit, then Chilas. Three days of cycling take us to the border of Indus Kohistan. Having dealt with a few stone-throwers, crossed villages with no women (they are forbidden to go into the street), and helped to repair a flat tyre (seven punctures from spiky plants) by Taliban-resembling men with big black beards, we decide to take the bus.

Read "Tourist heaven and hell meet in Pakistan" and see"Pakistan: little angels and bad boys".
– 4- 5 Oct: Bus to Lahore. 400km to Islamabad and 300 more to Lahore, near the Indian border. We fasted for Ramadan with the other passengers – and rejoiced with them at 6pm when the bus finally stopped for dinner.
India: Full of life!Streets full of people, rickshaws, motorbikes in a flood of colour, noise, smells of incense and open sewers. All the cyclists met previously warned us that it was the worst country to cycle in: "India is like a chocolate, you shouldn't have too much" (Mandy and Benny). In fact, we found an India that contains several countries in one - refreshing mountainous India, the authentic India of the countryside, restless India of the great polluted cities, over-touristic India of the Taj Mahal, the serene India of beaches...
While economic growth continues its benefits are extremely unevenly distributed, translating into a dire environmental and social situation. The ever-present sewage, waste and deprivation are unmanegeable - too many people and not enough infrastructure. Over a third of all Indians subsist on less than a dollar a day, while most poor families have at least 4 or 5 children. It's difficult to imagine this country developing sustainably without some factor curbing the population growth - India has a population of 1.1bn, growing at 19m each year, and is set to overtake China as the world's most populous country by 2035.
– 6 Oct: 60km by bike from Lahore to Amritsar.
Once in India, we plunge straight into a festive atmosphere. Every day the closing of the border with Pakistan at Wagah-Attari provides an occasion to celebrate: a military parade accompanied by the waving of national flags, pop music and dance... the two sides seem to compete over who will make the most noise.
– 7 Oct: Amritsar At Amritsar's Golden Temple, the "Mecca of the Sikhs," tourism hasn't managed to corrupt the spirit of hospitality: free dormitory and food for everyone! Sunny, an Indian student who explained to us that his hobby is to talk to foreigners, becomes our guide around the city and even generously pays for our meals. See India: Welcome to the land of colour, music and tolerance..
– 8 – 10 Oct: Cycle to Dharamsala / McLeod Ganj, the official abode of the Dalai Lama. Leaving Amritsar by the Great Trunk Road is like a strange and colourful nightmare: struggling to breathe and even to see through the smoky, polluted air, dodging moto-rickshaws, trucks, horse carts and pot-holes, we finally make our way out of the urban zone. After a night at a Sikh temple (again, free food and lodging) we speed along the flat, tree-lined road to Pathankot. Beyond Pathankot, the Himalayan foothills that rise from the North transform the landscape beyond recognition. We climb out of the polluted plains into hills covered with tropical forest, dotted with picturesque little villages bordering on streams and, to our relief, bathed in clean mountain air. Green parrots in the trees, furry mongooses shuffling out of the bushes and whole families of red-arsed monkeys coming out onto the road, completely unbothered by our presence…

Read "Air pollution : wind of change".
– 11 – 14 Oct: Dharamsala, India McLeod Ganj, the "Dalai Lama's village" perched above Dharamsala at 1700m, welcomes us with brilliant sunshine, Tibetan prayer flags dotting the bright blue sky. This "global village" visited by scores of travelers and pilgrims is also home to thousands of Tibetan refugees. His Holiness the Dalai Lama, religious and political leader to the Tibetan people, places great emphasis on environment protection, which he says is a matter of survival. The fruit of his teachings can be seen in recycling projects and other green initiatives across Tibetan communities like McLeod Ganj.
– 16 Oct: Bir, Tibetan Childrens' Village school visit We give the first Develotour Asia presentation at a Tibetan refugees' school in Bir near Dharamsala on the 16th of October – Goska's birthday – to the most attentive and understanding audience we could have hoped for. The Tibetan students are eloquent in expressing their affinity with the people of the Aral Sea or Sumquait in Azerbaijan – the environment of Tibet has also been destroyed by the Chinese, who use it as a nuclear dumping ground.

Read "Tibetan refugees put eco-theory into practice" and see "india: time to reuse, reduce and recycle".
– 16 – 21 Oct: Cycling Dharamsala to Delhi A speedy return to the lowlands to make up for the days spent in Dharamsala and Bir – narrow roads across mountain passes, one broken chain (Herve), then back on the straight, flat, but very crowded and polluted Great Trunk Road all the way to Delhi, passing through the towns of Chandigarh, Amballa and Panipat. Lots of good curry to fuel us along and a guided visit to the town of Panipat thanks to our new-found friends Sachin, Sunit and co. – 21 Oct: Arrival in Delhi along a river black with sewage to the sound of drums and chanting – excited crowds preparing to burn 15-metre statues of Ravan for the festival of Vijaya Dashami. Potala House, our hotel in Delhi's Tibetan Camp, provides an oasis of calm as we explore the great city…
Bus route in yellow, cycle route in red
– 23 Oct: Herve's brother Thierry arrives in Delhi to join Develotour for three weeks of cycling. – 24 Oct: Thierry buys a brand new Indian Hero mountain bike for 6200 rupees after a day of negotiations.
– 26 - 29 Oct: Delhi- Bharatpur. Leaving Delhi takes us a while – the city just won't let us out of its smoky, polluted embrace. After a whole day's cycling through an everending line of towns and villages we finally make it out into the countryside, and are able to breathe again. Passing close to two national parks, Sariska Tiger Reserve and the Keoladeo Ghana bird sanctuary, we choose only to visit the latter as the Tiger Reserve, we find out, no longer counts a single tiger. Keoladeo, although a beautiful island of jungle that is rare to find in India, is nevertheless threatened by climate change – drought has kept many birds away for two years now.

Read "Wild India under attack from people and climate".
– 30 Oct - 1 Nov : Bharatpur- Agra. Down the Yamuna river in Agra, a visit the Taj Mahal allows us a brief escape from the chaos, rubbish and sewage smells that pervade Indian cities and villages. The Taj is an island of white cleanliness in a sea of garbage filling the streets of Agra… Some forms of pollution cannot be kept out by walls - the monument, like many others in India, is under attack from particles present in the air. The less known, but also very beautiful, mosque of Fatehpur Sikri borders on a rubbish dump. – 2 - 4 Nov: Agra - Orchha. A visit to a former Maharaja's palace, now in ruins, and hindu temples. – 5- 7 Nov: Orchha- Khajuraho. Khajuraho, another stopping point, is home to world famous erotic sculptures covering the many Hindu temples of what was once the capital of an ancient empire.

Read "Historical monuments – surviving in the era of pollution"
– 8- 9 Nov: Khajuraho- Chitrakoot. In Mahoba, a town little frequented by turists, we are spotted by a local television crew (E-tv) and interviewed in the street surrounded by a crowd of onlookers. As well as the evening news, we make the next day's local (Hindi) paper No major errors, apart from saying we have cycled through two countries with the intriguing names of "Mirmistan" and "Burkistan."

See here for a copy of the article in Hindi. This part of India is so packed with culture and history that we are often forced to cycle only half-days – too many sites that cannot be missed! Next comes Chitrakoot, an ancient city where are pretty much the only tourists in view, and where we follow an unending procession of people to the river where Diwali festivities are carried out.
– 10- 11 Nov: Chitrakoot- Varanasi. After a short stop in Allahabad, the meeting point of two great rivers, the Yamuna and the Ganges, we arrive in the holy city of Varanasi.
– 12 Nov: Morning boat-trip along the ghats of Varanasi. Ancient Varanasi offers us our first close encounter with the Ganges (Ganga) - sprawling across a vast river bed, littered with floating flower wreaths and rubbish, accosted by crowds of pilgrims, saddhus and tourists on boat-trips, India's holy river still manages to look majestic. Even close-up it seems relatively clean (we've been in India for a while!), but the facts prove otherwise - each day one billion litres of raw sewage flow into the Ganga plus the remains of around 200 bodies cremated here at Varanasi, not always completely burnt. This is on top of chemical pollution from industry upstream, especially leather processing.

Read 'Holy monkey! India's sacred animals claim their reights" and see "India: urban apes – in pictures".
Congratulations to Thierry, who has fulfilled his mission -1000 km of cycling in 3 weeks - and has taken a flight back to France.
– 13- 19 Nov: "Indian immersion course" in Varanasi. A prolonged stay in Varanasi allows us to get under the surface of this mysterious city, and to get to know its socially active community enough to make us want to stay even longer. We start by visiting a local NGO whose aim is to clean the Ganga river, the Sankat Mochan Fondation led by the charismatic Mahantji – a Hindu high priest and professor of engineering. One thing leads to another and we are put in touch with the eco-aware Southpoint School, ran by the innovative Nirman Project, where we present our project to the pupils.

Read "Ganges - unclogging India's artery".
Cycle route in red
– 20- 22 Nov : Varanasi- Bodhgaya. Two record-breaking days of cycling: 125 and then 130 km on the "Grand Trunk Road" to the state of Bihar (the poorest in India).
– 23 Nov: Bodhgaya, India. The birthplace of Buddhism. This is where the prince Siddhartha Gautama became the Bouddha 2600 years ago, while meditating under the Bodhi tree. We stay at the Tibetan monastery, one of the many "religious embassies" in town - every Buddhist country in the world has erected one. After a visit to the Mahabodhi temple and the Bodhi tree, we choose the Maitreya School to give our presentation.
– 26 - 30 Nov: Bodhgaya- Kolkata (Calcutta). 5 days to cycle 500km. Apart from the occasional caravan of camels and the motorbikes going the wrong way, the motorway proves less dangerous than the small roads where trucks and buses brushed against us. In Dhanbad, we are invited to spend the night at a locals' home for the first time in India - Prasad, a professor at the politechnic and a very spiritual person, is happy to share his home and his ideas with us for a day. We leave the Grand Trunk Road behind us 100 km from Calcutta, tired of breathing the smoke of the coal-powered factories, and immerse ourselves in the relative calm of the countryside of West Bengal. Entering Calcutta turns out not as bad as expected: traffic jams penetrable by bicycle, and almost, almost breathable air... – 1 Dec: Arrival in Kolkata (Calcutta). Infamous as "the world's most deprived and polluted city," does Calcutta really deserve its reputation? On our first encounter with Kolkata, we are shocked by the improvised encampments strewn around the city centre, the women in rags cooking and washing themselves in between the motorway and the railway tracks, their children sleeping in the midst of blaring car horns in the general indifference, the "professional" beggars thrusting their hungry children or their mutilated limbs into your face, the sick dogs rummaging in the rubbish or those already dead rotting in the gutters... Numerous NGOs, most of them with a religious affiliation (the most famous being that of Mother Theresa), try to provide education, healthcare and lodging for Calcutta's poorest. We contact one of them, the Cathedral Relief Service (CRS), and join its employees for a day's work at the B.D. Colony slum. The work of doctors, teachers and volunteers at NGOs like the CRS gives hope to those who want to escape poverty. In the end, Calcutta is not only the giant infernal city described by so many writers. It is just one of India's big cities (13,4 million inhabitants). Its high population density and fast demographic growth amplify all of India's usual problems tenfold; efforts to improve the economic, environmental and social situation must also be multiplied by 10.

Read "Kolkata: concrete jungle, urban village". Calcutta is where the first part of our eco-cyclist adventure ends (5 months of travel, 7000km behind our belts). The last two months spent crossing India were a strong experience, to say the least.

Read "Veg or non-veg? Good reasons to go green" and see "India: On yer bike. Andaman Islands (India) : a well-controlled paradise in the middle of the Indian Ocean. If you are dreaming of a palm-leaf bungalow on the beach, of sun-worshipping and marine diving, the Andaman Islands are made for you. But before you buy your ticket, you should know that Indian bureaucracy could spoil your holiday: special authorisations needed to visit some beaches and islands, chaotic queues at ferry terminals, impossibility of leaving the islands, located off the coast of Thailand, without passing through India… The Andaman Islands, with their strategic location, serve as a military base for the Indian Navy and all movement of foreigners is closely monitored. Apart from that, the tropical rain is a relief from the hot and humid climate.
– 7 Dec: Ferry departure from Calcutta to the Andamans. The limited number of places for tourists (only 20) obliges us to buy a ticket for a "deluxe" cabin. At least our bikes stay out of the salt breeze, and our toilets stay clean... – 8- 11 Dec: Three days of plain sailing, punctuated by meals at the dining hall (curry for breakfast, lunch and dinner, and military discipline – no dinner for latecomers) followed by "rubbish-throws" into the sea. On the last day we sail along the mountains of North and Central Andaman, occupied by indigenous tribes, some of them cannibals (is that the reason they survived Indian colonization?), before coming ashore on the big Southern island in Port Blair.

See "Andaman Islands : fun on the ferry". – 12- 21 Dec: Desperate search for a sailing boat to take us to Thailand. Luck is the only variable that determines our onward journey from the Andamans. Officially, there is no regular transport to Thailand (military reasons?). We have 10 days to find a private yacht willing to give us and our bikes a lift to Phuket, Thailand, before our Indian visas expire. As soon as we arrive, we go to meet Mr. Rathnam of Andaman Holidays who provides services for yachts coming into Port Blair. In between visits to the jetty and telephone calls, we explore the south of the island by bike (Wandoor and Chiriya Tapu), then Havelock Island by boat, the chance to see the effects of the December 2003 tsunami (uprooted trees, eroded beaches, buildings under reconstruction, mangroves destroyed…). Unfortunately, we do not have enough time to fully enjoy this island paradise. Our travel preparations always take us back to Port Blair. Mr. Rathnam tells us of several yachts and catamarans coming into port, one of them set to depart for Phuket, but it turns out it will leave too late for us.

Read "Tsunami : a lesson in natural disasters?". – 21 Dec: The end of our Andaman permit. We need to leave the islands; the plane is the only solution. Return to Calcutta. – 22 Dec: Our Indian visa expires. We must leave the country without delay, and leave by plane for Bangkok, then Phuket. 8 hours of flight in total covering a distance 5 times longer than that which we would have crossed by sea, 12 hours of waiting in airports, 400 euro per person, 100 euro for overweight baggage – the result of a system that presumably makes it easier, and cheaper to pollute than to use cleaner modes of transport. The result of bad habits, stupid rules and bureaucracy.
How difficult to cross the ocean : in blue, unsuccessful attempt by ship - in grey, circuit by plane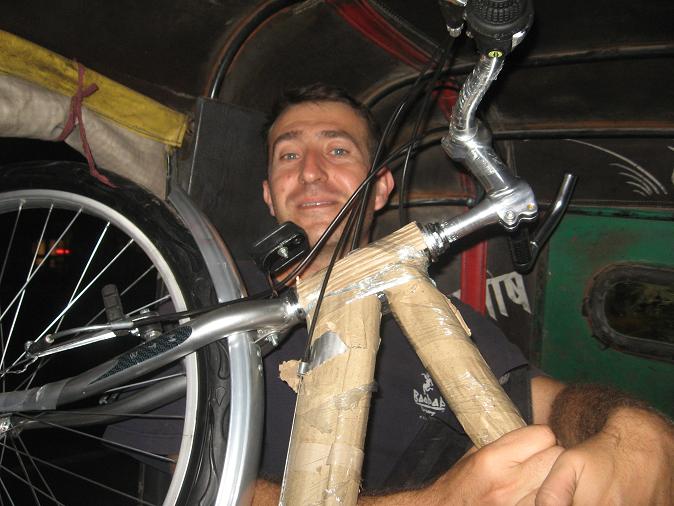 Your messages :