South East Asia
December 2007 ,
Not all South Asian countries are capitalist "tigers" having experienced an economic boom. Our itinerary takes us across Thailand, Laos and Vietnam, three countries in very different stages of development.
Thailand: a model of success? After the buzz and chaos of India, we are mesmerised by serene Thailand – after a transition period on the Andaman Islands, a halfway point both geographically and culturally. Here, we rediscover a hospitality we have only ever experienced in Central Asia: the locals invite us for food, have us stay over and even give us little presents. Just like Thailand's nature, the Thai people are welcoming, generous, warm… and incredibly clean! Cleanliness is not a new custom here: a Thai king who visited France hundreds of years ago was reportedly shocked that the French didn't wash three times a day. With its clean air, beautiful nature, friendly people, cheap beachside bungalows and good roads, this is an ideal country for cycling. The Thai know that their high living standards partly depend on tourism revenues, and that they need to preserve the environment if they want to sustain that income. Besides, judging by the infrastructure, this is practically a developed country where people are living comfortably enough to afford worrying about the environment for their own sake. We share the roads with joggers and "serious," lycra-clad cyclists, most of them Thai – a sign of a society which has managed to meet its basic needs.
– 23 - 24 Dec: Phuket. Our Thai journey starts on the island of Phuket, one of Thailand's biggest tourist hotspots, where we arrive in peak season – Christmas / New Year. Nevertheless, to us it all seems quiet and peaceful. Cycling along the deserted streets of Phuket town and the quiet coastline on Christmas Eve, we ask ourselves where all the tourists have gone. We find them on nearby Patong Beach – a real tourist trap complete with nightclubs, prostitutes and an overcrowded beach - but even Patong seems quiet after India. As for the prostitues, we later learn that Thailand may not deserve its reputation as the global centre of sex tourism. For example, there are more prostitutes in India than there are in Thailand, and that's per inhabitant… (International Commission on Human Rights statistics) After a day in Phuket we set off towards Bangkok - along the coast, through towns and villages and into steep, jungle-covered hills. – 25 - 27 Dec: Phuket – Ko Surin Christmas Day finds us on a random beach a day's cycle away from Phuket – and we couldn't have found a better place! Arriving at Mai Khao beach at sunset, we find an almost empty beach with palm-leaf bungalows and a small cafe. A group of Australians, practically the only tourists there, invite us to a barbeque and Christmas dinner: crab, prawns, fish, a selection of Thai goodies, wine and fruit. A perfect example of how spontaneous travel can bring pleasant surprises! A day of cycling later we arrive in a town that couldn't be more different from Mai Khao. Khao Lakh is a nightmare of a seaside tourist town, at least for us, and one of Thailand's most "exclusive" resorts. We cycle into town in the pouring rain and desperately try, and fail, to find a cheap hotel room. Khao Lakh is ridiculously expensive. The town consists of rows of overpriced hotels, "complexes" and shops selling luxury goods, built up along a nice white beach that must have been beautiful once. This is where the Swedes and Americans come who want to have the same comfort as back home but in a Thai setting. On the evening of the 27th we arrive in Khuraburi, where we are welcomed by Oliver, Pom and Wichian – we are invited to dinner, then brought home, invited to stay over, and generally taken care of. We sleep at Oliver and Pom's house and leave our bikes in their living room while we go to the island. At this point we start really feeling like being back in Central Asia with its famous hospitality… surprisingly enough, Thailand and Uzbekistan have a lot in common! – 28 Dec 2007 - 1 Jan 2008: Surin Islands We spend an unforgettable New Year's Eve 2008 on Ko Surin (Surin Islands), a group of small islands that are home to a Marine National Park, and where the only buildings are a couple of bungalows housing the kitchen for an open-air cafe. Otherwise it's camping only. Our little five-day holiday (after some "discussion" Herve agrees to stop cycling for New Year's Eve) is spent snorkeling, eating seafood and discovering the island with a group of French, Austrian, German and Israeli . Swapping stories like we did back in Kashgar, we heard shocking and wonderful tales of Laos, Cambodia, China, Mongolia… Despite only sharing five days on the island with Julie, Olivier, Sylvia, Andy and the rest of the gang, it feels like we'd shared months of travel, and we'll remember them and their stories as we head to Laos and beyond. Snorkeling is the main "activity" on Ko Surin (other than sunbathing) – plunging into a world of corals inhabited by rainbow fish, yellow stripy fish, big blue fish, anemones with little orange-and-white clown fish inside, you don't even have to look for them, they're everywhere… Coming out of the sea is like emerging from a multicolour dream, blinking and asking "what was THAT?" Ko Surin's underwater life is beautiful, but fragile – only 45% of the corals around the islands are now alive. – 2 - 5 Jan: Khuraburi – Chumphon We get back from the islands after a day's delay due to storms (during which Ko Surin is cut off from the mainland - we hitch a lift on a navy boat!) Oliver and Pom don't let us go without showing us an amazing diving video (Oliver is a diving instructor), another one of the Tsunami featuring Oliver on Surin Island, and giving us provisions for the road!

Read "Tsunami: a lesson in natural disasters?".
The seaside road takes us further north along a swampy coast punctuated by some very pretty beaches, with no tourists – probably because the Lonely Planet says there are no nice beaches here, only swamps. We sleep at Ao Khoei beach and the next day reach the fishing port of Ranong, on the Burmese border, where we watch fishermen haul in nets and load off buckets of fish while singing Thai mariners' songs. A steep climb into the jungle-covered hills takes us across the peninsula of southern Thailand, from the west coast onto the east. Away from the beaches, we are rewarded with a much more real experience of the country. We sleep at the village of Kraburi (not to be confused with Khuraburi) where our landlady, Aungkana, an incredibly friendly and talkative woman interested in just about everything, answers many of our questions about Thailand. After two days in the hills, we see the Pacific near Chumphon.
From Phuket to Bangkok
– 7 - 14 Jan: Along the Pacific coast to Bangkok. No more palm leaf bungalows on empty beaches. We still venture beyond the motorway to cycle through quiet fishing villages and coconut plantations, but as we get nearer Bangkok the wild coast is drowned out by swarms of tourists. Concrete and hotels increasingly deform the coast. The summit of non-eco tourism is reached at Hua-Hin and Cha-am, two seaside resorts completely disfigured by mass tourism - mostly retired westerners looking for an easy, comfortable place in the sun. High-rise apartment blocks newly built along the motorway, complete with private beaches and security guards, block the view to the ocean.

Read "The two faces of Thai tourism" and "Thai countryside: off the beaten track".
– 15- 16 Jan: Arrival in Bangkok Trying to avoid the motorway and the traffic, we finally find ourselves on little roads as we approach the capital. Unfortunately all the road signs are in Thai script and the locals don't speak a word of English, nor do they know the English name for Bangkok. We finally make it to the city centre, but a day later than planned.
–17 - 23 Jan: Bangkok A week to sort out our visas for Laos and China, to discover Bangkok, and to have a real rest – thanks to Mohammed's friend Kasia, at whose house we stay together with Mohammed and another friend visiting from Japan. That's Polish hospitality for you! You can never relax in a hotel like you do in a real house, especially one with a hammock on the porch. Kasia's Thai language skills make our stay all the more relaxing, especially when it comes to ordering food, and helps us fearlessly venture beyond fried rice and seafood soup. Bangkok itself turns out to be a giant modern megalopolis connected by a network of permanently congested double carriageways, and with a minimalist public transport system. If this is the model of prosperity and development for Thailand then the country has a daunting future ahead of it. Think hours spent in traffic jams in the freezing cold of AC taxis, breathing pollution while you wait.
– 22 Jan - 1 Feb: Bangkok – Khon Kaen Mohammed joins us with his bike from Bangkok onwards - read his impressions of his first week as a cycle-traveller in "How I rediscovered Thailand".
– 2 - 7 Feb: Khon Kaen - Vientiane (Laos). We celebrate Mohammed's birthday in Si Chiang Mai around a korean barbecue washed down with Singha beer and finish the evening with a birthday massage. On the next day, we cross the Thai-Lao friendship bridge over the Mekong.
From Bangkok to Vientiane
Laos: the quiet little country with big changes ahead
We heard a lot about the quiet, peaceful atmosphere of Laos before we came: "so calm, it's out of this world." The capital, Vientiane, proved to be just that - a green city of low-rise buildings overlooking the slow-moving Mekong river. The countryside is even calmer, if that's possible - children waving us Sabaidee in little bamboo-hut villages. But big changes are ahead for the quiet little country, everyone warns us, due to its neighbours' appetite for resources: wood, hydroelectricity and land.
– 7- 11 Feb: Vientiane The capital of Laos is a village compared to Bangkok. Some of the monuments like the Patuxai (the Lao Arc de Triomphe) recall French colonial times of Indochina. Bakeries produce real French baguettes, many people get around by bike, and you can't beat sipping local "Beerlao" on the wild banks of the Mekong at sunset. For a week, we are housed, fed and made to feel like home by Vincent Degos, a teacher from Vientiane Josué Hoffet French High-School. Several other teachers welcome us to their classrooms for a presentation of our trip to the students.

See "Laos : a smiling welcome".
– 12- 15 Feb: Vientiane - Vang Vieng. After 3 days on the dreamy undulating roads of the Lao countryside, we arrive in Backpacker's World - actually it's just the little town of Vang Vieng, but it might as well have been a purpose-built themepark for Western travellers. There are more tourists than locals, the main street at night is one big party, and the opium dens the town was once famous for have been replaced by TV bars. The effect is similar - groups of backpackers splayed out on sofas, hypnotised into a trance by consecutive episodes of Friends. If you avoid the TV Vang Vieng isn't that bad, and the countryside around it makes up for its faults. We explore two of the many caves in the surrounding mountains and get ready to face the long ride up to Luang Prabang together with Tom, our new travel companion. Everybody told us we are going to suffer in the steep hills, but the Vientiane - Luang Prabang road turns out one of the most beautiful of our whole cycle journey...
– 17 - 19 February: Vang Vieng - Luang Prabang. Together with Tom, an English cyclist met before Vang Vieng, we finally tackle the Lao mountains. After almost an entire day of mellow foothills ("so where are those scary mountain climbs everyone goes on about?"), it suddenly starts - a solid 20km of up, up, up. We were not expecting this, and hadn't planned for it. Sunset finds us maybe half-way up the mountain, where we see the winding road far across the valley, still going up... We finish in the dark, arriving at the sole guesthouse of Phukun village at 7.30pm tired, hungry and happy, with 1300m above sea level on the altimeter. After three days of cycling we reach Luang Prabang, the ancient Laos capital, home to beautiful Buddhist temples and expensive hotels housed in French colonial buildings. It's a very nice town, but we feel a bit disappointed to arrive - that road was just too good: steep climbs and long fast rides down, countless villages full of crowds of little children waving and shouting "sabaidee" (hello), strong emotions and beautiful views. As Tom pointed out, you need a destination to cycle to - but it's more about the ride..

See "Building a new Laos".
– 21 - 23 Feb: Crusing on the Nam Ou river. Laos is a country of rivers, we were often told, and there is no better way of discovering it than by boat. After a 6-hour boat ride up the Nam Ou, from Nong Khiaw to Muang Khuam, we have certainly seen how important the river is in Laos life, providing water, food and transport. Being cycle-addicts, however, we still feel that you can't beat the bike - an open, noiseless, independent form of transport that really lets you feel, not just see, the landscape (especially in those Laos hills!).

Read "Laos, future battery of Asia... but at what cost?.
– 24 - 28 Feb: Luang Prabang - Nam Can, Vietnam border. The hills didn't ease up until the Plain of Jars, a mythical and slightly surreal tourist attraction. The plain of jars is just what its name suggests - a plateau peppered with hundreds of giant jars, of which no-one seems to know anything apart from the fact that they are very old. A strange place. A pleasant surprise awaits us near the plain of jars, in the town of Phonsavan - cycling out of our hotel, we are met by Vincent, whose house we stayed in Vientiane, and fellow teacher Laurent. It's a small Laos! After a couple of evenings enjoying their company again we leave for Vietnam. Over our last few days in Laos we are reminded again and again of what a wonderful country for cycling this is: bamboo-and-palm covered hills, bamboo-and-palm villages, boys playing football in the red dust under the setting sun. And, we decide, a good country for cycling is a good country full stop. A last long, steep climb through the fog takes us to the Vietnam border, where we arrive just after sunset (again, we didn't plan for that long climb!) to find there is no accomodation. The altimeter on Herve's watch is now broken, but we know we must be very high: we've been climbing for hours, and it's bloody cold. The next town - on the Vietnam side - is 22 km away...
Vietnam: an explosive mix of India and China
The contrast with Laos couldn't be more striking. Vietnam is 83 million people on a surface less than half the size of France - and the less space people have, the more they get stressed. The traffic and the crowded, noisy streets make for a tense atmosphere. The Vietnamese have a reputation for hard work; we found them to be experts in trying to overcharge tourists. The whole country has an air of decay about it, a sad memory of the war that finished in 1973 in the military clothes everyone wears, dirty houses and communist food (that means always the same, pretty tasteless, thing on the plate).
– 28 Feb: Entering Vietnam After passing immigration, a truck driver informs us that the first hotel in Vietnam is 22km from the border but he assures us that it's all down. The prospect of camping by the border in the humid, cold fog doesn't appeal to us, so we decide to try our luck on the dark road of an unknown country, armed with all our lamps. The descent through the dark valley is magic. We don't pass a single car - the border is closed. Passing throgh villages we hear a few TVs blaring programmes in Vietnamese, unfamiliar music coming from radios, and at every corner of the winding road a halo of light emerges from the mist far below us - the town of Muang Xen. We are relieved to finally see the sign of the promised hotel an hour later, and we don't negotiate the price of the room - 100,000 Dongs ($7).

Read "Deforestation - on the green gold trail".
– 29 Feb - 3 March: Leaving the mountains We still don't have a map of Vietnam, but there's little danger of getting lost. There is only one road, and it follows the river down to the sea coast. An overnight stop in Khe Bo sees our first true act with the Vietnamese - we are invited to eat and sleep at the local school's English teacher's neighbour's house. The day after, we are already cycling through the plains in Dien Chau, and start to discover a different Vietnam - the Vietnam of over-exploited rice fields, over-excited drivers madly blowing high-pitched horns, and inhabitants screaming "Hello!" into our ears, then laughing histerically.
– 4 March: Thanh Hoa - meeting Francis Chu. Nothing particularly interesting in this regional capital, apart from the near-by beach of Sam Son. This is where we are stopping to meet a new travel companion, coming from Singapore via Hanoi. Francis is one of our sponsores, the inventor of anti-pollution masks which we wear since Delhi. Our cycle adventure appealed to his creative spirit, and he decided to join us... believe it or not, on his folding bicycle! See photos of the phenomenon down there.
– 5 - 11 March: Following the coast to Ha Long Bay. To escape the motorway, we try to take narrow little roads through the ricefields to Haiphong. Then, a half-bike half-boat trip takes us to the very beautiful Cat Ba island. The culminating point of this coastal journey is Ha Long Bay, world famous for its fantastically shaped karst rocks plunging into the sea.

See "Vietnam: what man has done to geological wonders".
– 12- 15 March: Stay in Ha Noi Vietnam's capital is a town of motorbikes. Though, as they go the same speed as us on our bikes, it's not so dangerous to cycle through. We visit the French highschool Alexandre Yersin in Ha Noi as well as numerous bakeries selling real croissants and quiches. Francis has to head back to Singapour by plane but decides to cycle the last 40 km to the airport, getting up at 6 a .m. Brave man!
– 16- 18 mars : Towards China! Having survived the rain and the coal dust of Cam Pha, we cross the border in Mong Cai. Thanks to Francis' advice and mandarin lessons recorded on tape, we feel more confident to face the Chinese giant.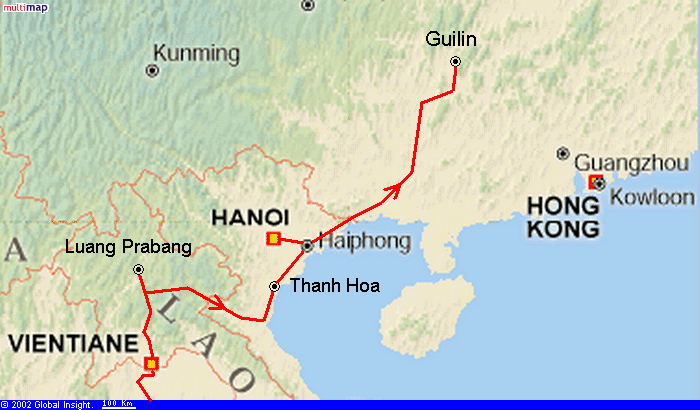 Your messages :