The two faces of Thai tourism
23 January 2008
Thailand's striking natural beauty makes the destruction of its coastline by tourism all the more distressing.
"And my field with a view on the ocean?"
Ah, Thailand!... blue water, white sand, deep jungle, and... fat tourists frying on a concrete coast lined with high-rise hotels? Although pristine nature and friendly locals dominate our cycle through Thailand so far, it's sad to see long stretches of once wild coastline cordoned off and turned into concrete copies of Monaco. Is Thailand slowly losing its soul? The Andaman coast, where we started our Thai journey, is all quiet beaches, fishing villages and little seaside roads through jungle-covered hills. With a few notable exceptions where "luxury resorts" have replaced beachside bungalows, it's still pretty close to TV-ad tropical paradise. Once we get to the East coast however, a motorway replaces the little roads and the quiet beaches get few and far between. But the real shock comes at the chic seaside resort of Hua Hin. The grey concrete town is ablaze in the midday sun, with not a tree in sight. The concrete has crept all the way to the sea leaving only a pitiful strip of beach overshadowed by high-rise blocks, and choked by crowds of retired Westerners strolling, tanning or getting massaged by young Thai women. Unsurprisingly, we don't stay long at Hua Hin. We are quickly back on a double carriageway separated from the coast by a band of clearly very expensive land from which new high-rises are springing like mushrooms. The buildings and building sites are separated by vast areas of wasteland. The landscape is generally reminiscent of communist-built residential areas in Eastern Europe, although it was probably meant to look more like Monte Carlo. Small plots in between the buildings are still used for agriculture but most of the land has been abandoned by farmers. "Private residential communities" of modern skyscrapers surrounded by high fences and armed guards border on small wooden houses left over from the town's previous reincarnation as a fishing village. Hua Hin is surreal. It also dramatically reduces our accommodation choices - only luxury resorts and holiday villas, all costing a little over our budget (an immaculately dressed lady at Easy Beach resort tells us with a smile that a double room costs "three… thousand Baht" - around 80 euro). The alternative is camping, but a spot by the highway doesn't take our fancy and getting to the coast proves impossible: all the land has been parceled off, fenced off and penciled in for development. A guard at one of the "private residential communities" suggests we camp nearby, where we can feel secure; we tell him no thanks, we feel perfectly safe in Thailand, and we're hoping to find somewhere with a better view. A lot of this development is taking place to satisfy the taste of rich Thais who feel life is not complete without an apartment by the sea, but many are also being bought by expats judging by the English ads. A few hours up the coast from Hua Hin we finally find a pleasant seaside village that has managed to escape the same fate. We are invited home by a local woman, Supap, and her family, and we are back in the Thailand we know and love: friendly, natural and relaxed. Real Thailand where locals talk to us, give us fruit and invite us home. The people we meet in such encounters - like Oliver and Pom in Kuraburi or Aungkana in Kraburi - teach us more about Thailand than the Lonely Planet ever could. Thailand's warm people and spectacular nature make the "concrete coast" phenomenon even more baffling: the original version is just so beautiful - why change it? And if you're not interested in the real Thailand, why would you come here in the first place? The answer, for those investing in and coming to Hua Hin, is clear enough: the weather, the beaches, and, of course, the girls. Apart from regularly seeing Thai girls with Western men who could be their grandads, we get a glimpse into Thailand's sex industry near Chumphon where a Canadian expat named Dale, a nice older gentleman still working as an English teacher, tells us how he goes to Nana in Bangkok on weekends where "thousands of girls do their prostitution." He tells us with surprise that "Thai people don't like foreigners who come here to live." Could that be something to do with the reason many of them come here? Of course, there are many types of tourist coming to Thailand – those into wild beaches, into exploring nature above and below sea level, those interested in the rich culture this Buddhist country has to offer. But whatever you think of prostitution, the fact is that the people coming to Thailand "for the girls" are generally not very interested in anything else –certainly not culture or nature. Petchatburi, a small town not far from Hua Hin studded with magnificent Buddhist temples, is one of the places tourists have bypassed in their rush to the beach. The empty streets and the abandoned temples make for a strange atmosphere. Packs of stray dogs and a lone Japanese tourist are the only living beings we meet as we silently step through the exquisitely painted doors and among the peaceful golden Buddhas. The concrete coast with its milling crowds of tourists and skyscrapers offering "a condo with ocean view" seem very far away. You could say – so what if it's not pretty, who cares if foreigners don't like it, this country needs to develop, the children of generations of fishermen are happier working in air-conditioned hotels. But how long will it last? What will happen to the area and its people when visitors – both Thai and foreign - realise they can find a better place than a concrete coast for their holidays, and the locals will be left with run-down seaside resorts on a concrete beach? How sustainable is the development that Hua Hin is undergoing? And what can a traveller do about it? In fact, chosing what you do and how you spend your money while in Thailand can definitely make a difference. As a local sustainable tourism NGO* puts it, while Thailand's tourism industry as a whole is not particularly sustainable, "each tourist or traveller, as an individual, has the capacity to make individual choices about what he/she gains from his/her visit." The same goes for the locals. Let's hope they won't be leaving the bill for the next generation. * For more information on sustainable tourism in Thailand visit the Network for Environmentally and Socially Sustainable Tourism at http://www.geocities.com/~nesst/.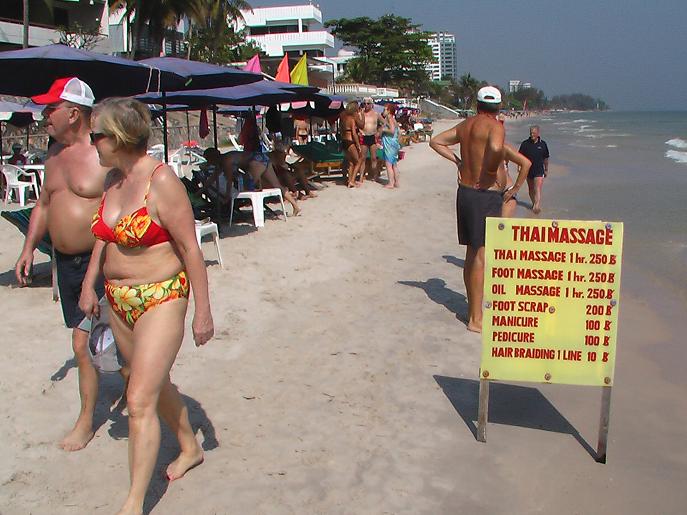 Your messages :