| | |
| --- | --- |
| | English / Spanish - click below |
Thailand urban style: Bangkok boom
1 February 2008
Bangkok got stylish urban living from the economic boom - but lost out on quality of life with a transport system that doesn't match the city's world class ambitions.
The beauty of Bangkok - only skin deep?
Bangkok is a bit like Thai sausage - it looks really good, but experiencing it close up is quite a different matter. The city-scapes are astounding - the very image of a sleek modern megalopolis. Unfortunately, behind the beautiful face of Bangkok there isn't all that much thought - when it comes to the transport system at least. What use are all those beautiful new office blocks and shopping malls if you're sitting in a traffic jam for hours each day? Or sleeping on a bus stuck in traffic coming back from work? Used to the freedom of cycling, we found moving around giant Bangkok a nightmare: congested double carriageways, a metro system composed of one line and a "sky train" of two. Taxis are inevitable - which means sitting in traffic jams in ice-cold AC cabs. That's unless you have a motorbike - like most locals, it seems. Cyclists are few and far between, as there's no space for them on the double carriageways, but we did see some determined individuals cycling home from work. Herve's brother Thierry had made similar observations when he came here in February 2007 (see "Transports en commun à Bangkok : d'énormes progrès à faire") - unsurprisingly, the city hasn't changed much in a year. Cycle paths would be most welcome. Let's hope next time we visit it resembles Thai specialities other than the sausage (which, by the way, seems to contain a lot of sugar for some reason. It's a matter of taste.)
See "Thai countryside: off the beaten track" for a contrasting look at Thailand.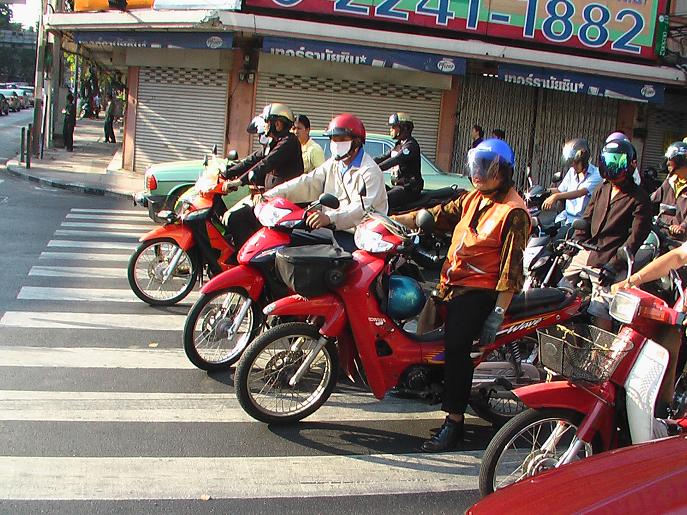 Your messages :