Laos, future battery of Asia... but at what cost?
10 March 2008
We went up the Mekong River by bicycle from Vientiane to Luang Prabang. The turbulent river and its main tributaries provide Laos with an enormous hydroelectric potential, something that it could take advantage for a long time. Actually, 149 planned dams in this country of rivers! 2009 will see the end of the construction of Nam Theun II, one of history's most controversial dams.
Translated by Rashaad JORDEN
Building new dams runs the risk of disrupting the lifestyles of people on the river
"I think that it's a good and wonderful economic development project that tries to respect man and its environment but like every hydroelectric project, human and environmental disruptions will be caused by economic objectives." Laurent, a Life and Earth Sciences teacher at the Josue Hoffet French School in Vientiane, explained to us. He returned with his middle school students from the Nam Theun II dam that's being built in southern Laos. "The students were delighted to see this building site so gigantic in their country and imagining how the region will be transformed was a shock for them."
Actually, it's a dam that turns water away from a river into another valley through a tunnel with a 350-meter high fall, 1070 megawatts of electricity, 450 square kilometers of underwater forests and moves 6200 people. That's something to scare people. For more than ten years, one side - the project's promoters (the NPTC [Nam Theun 2 Power Company] consortium, lead by EDF and its Thai and Lao equivalents that promise the economic takeoff of Laos) - has fought against the more than 100 other international nongovernmental organizations including Friends of the Earth International who denounce the impact on the ecosystems and local populations. Practically all of the electricity produced will be sold to Thailand. Of the 25 years the concession will last, the revenue that Laos could draw from it is estimated to be, according to sources, between 250 million and two billion dollars. In 2005, from over 600 environmental and social studies, the consortium finally convinced the World Book to finance the beast thanks to specifications that call for:

respect of the environment (saving wild animals, in particular, Asian elephants)

the development in the region of school and health programs

work conditions in EDF norms (security, time of work, 75% of the workers being Laotian)

the reconstruction of villages for populations displaced while using first local, then human resources.
Several links on the subject: www.namtheun2.com/ www.en.wikipedia.org/wiki/Nam_Theun... www.delaplanete.org/Le-barrage-Nam-... www.amisdelaterre.org/La-Banque-mon...
While admitting that they consider Nam Theun II to be a model dam regarding sustainable development, what is it or what will it be like for the others?
Our bicycle crossing of northern Laos likewise permitted us to discover Laos' first big dam, built in 1971 on the Nam Ngum. The reservoir of 350 square kilometers is actually Laos' biggest. The electric power plant feeds all of Vientiane, the Laotian capital, and sells 70% of its electricity to Thailand. During the last 20 years, the dam of Nam Ngun has provided a quarter of the country's revenue in hard money, a true success. Actually, its profitability is more limited because of increasingly significant maintenance costs and numerous conflicts being pointed out at the heart of local communities regarding the use of resources.
For the other projected dams in Laos, eleven are run by corporations and Chinese investors. They build at reduced costs, but without worrying about additional consequences on the environment and populations. All that remains unclear because little information about the projects has been made available. The Mekong River Commission in an intergovernmental agency (Laos, Thailand, Vietnam, Cambodia) that tries to galvanize cooperation of adjacent countries for long-lasting management of the resources of the Mekong River and its tributaries.
Within several years, it's only an environment and a way of traditional life on the bank of a river that risk disappearing. Who will finally be the true beneficiaries of all the disruption? Laos? The Laotians? Or others?
See also: www.idrc.ca/fr/ev-27967-201-1-DO_TO... www.searin.org/Th/SWD/Investment_in... www.mrcmekong.org/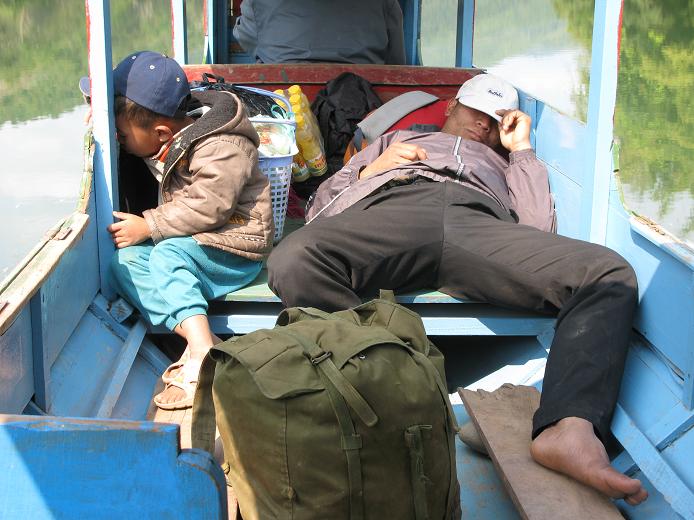 Your messages :