The Chinese giant
26 March 2008 ,
Throughout our journey, from Central Asia and India to South East Asia, we have heard a lot about China. The comments were mostly negative – criticism, accusation or fear. In the Uzbek countryside people complained about cheap Chinese bicycles, much less sturdy than the good old Soviet ones. In Kyrgyzstan we witnessed convoys of chinese products flooding across the border. In Dharamsala Tibetan refugees who had fled repressions told us abou the occupation of their country. In India in December the newspapers were full of reports of Chinese intrusion into Bhutan and similar incidents near the Sikkim border. In Laos, we heard a lot about Chinese investors taking control of the country, making the right to send Chinese immigrants into the country a condition for investment. Finally in Vietnam, we were warned: "Don't buy the beautiful big Chinese apples, they're poisonous with pesticides!" A few months before the Olympic Games and after the latest explosive events in Tibet, the whole world is watching China. Our cycle journey across this mini-continent over 4000km or so, spanning 3 months, will allow us to experience this tense period directly, and to meet these frightening Chinese face to face!
Most Chinese aren't giants but there are some exceptions
Southern China (from Vietnam border to Yichang) | Northern China (from Yichang to after Beijing) | Inner Mongolia (on the road to Mongolia)
Two months and a half, 4500 km to cross China from South to North
Southern China: A breath of English Autumn After crowded Vietnam, we only want one thing in China: peace and quiet. Our route was initially planned to follow the overpopulated south coast to Canton and beyond, but instead we decide to head straight North from Vietnam to the infamous Three Gorges Dam, 300km West of Wuhan. This project is built on the Yangzi Jiang (Long River) – the river cutting China into the rice-growing South and the wheat fields of the North. Despite the climate – drizzle every day - our first impression of this immense country is pretty positive. The Chinese country folk we meet are all friendly and welcoming. They are patient and always make an effort to understand what we want to say with the help of our Mandarin phrasebook. In general, it all ends in mutual laughter. They are very impressed by the fact that we are going to Beijing by bicycle. They no doubt think we are going there to see the Olympics. The countryside is beautiful, only disturbed by the occasional factory chimney. The Chinese cities we see are stereotypical, all with big wide avenues, big buildings and commercial centres – image is everything! Their modernity is impressive, although it lacks the charm and narrow alleyways of an old town – old buildings seem to have all been rased to the ground to make place for new ones. On the positive side, we're happy to see cycling paths everywhere. Despite the rise of the car in China, it still remains a country of bicycles after all.
– 19 March - entering China. Our initial aprehension when faced with uniformed Chinese officials at the border is quickly forgotten after our first contacts with people in the street. Whether we are on our bikes and ask the way, at the bank to change money or at a restaurant ordering food, the Chinese are always helpful. We leave behind the border city of Dongxing on a road that looks small on the map but turns out very wide with cycling paths, and are surprised to arrive in Qinzhou, 100km down the road, in less than 5 hours.
– 20-25 March: From Qinzhou to Yangshuo, avoiding the big cities. By car, this journey of over 500 km is simple – just take the motorway through Nanning and Liuzhou, then head to Giulin. Our efforts to escape heavy traffic take us onto Route 209, a road apparently in the process of being completely rebuilt, over 200 km . After a rainy day Route 209 turns into a mudbath, or rather a wet-clay-bath, clay that sticks to wheels and also shoes. Young workers in a small roadside wood panel factory come to our rescue with a water hose, and wash us and our bikes. They don't speak English but we manage to communicate using an online Chinese - English translator.
– 26 March: Yangshuo Our first touristic stop in China, Yangshuo is surrounded by karst rocks and caves, offers mud-baths, boat excursions, bikes for rent and Western food, to the glee of tourists. Once again, it's muddy, wet and foggy…
–28 - 29 March: From Yangshuo to Guilin This scenic region has widely inspired Chinese poets. The cruise on the Li river has become a must on the tourist trail but we found that business has replaced poetry. After an unsuccessful attempt to travel up the river on a bamboo-raft that turned out not to have a permit, we end up finding our way to Guilin on our own along an unknown but very charming dirt track.

See "What's left of the China of the poets?".
–30 March: Guilin - shopping galore The main attraction of this town seems to be the shopping - Nike, Adidas, Kappa, you name it. You can't see the karst mountains that surround the town and that have made it famous because of the tall buildings and the mist. The (expensive) youth hostel we stay at is very comfortable though, it must be said: sofas, Internet, coffee, what more can you want on a rainy day?
–31 March - 4 April: Guilin - Guizhou province We visit the "dragon's backbone" rice terraces at Ping An (50 Yuan / $6 entry fee) in the early morning mist before the hordes of tourists arrive by the coach-load, and take the road north, where we meet a French cycle tourist on a beautiful yellow recumbent bike. His name is Francois, he lives in Hong Kong, and we share the road for the next few days as we enter Guizhou province. It's actually Francois's advice that gets us to change our route and detour slightly West into Guizhou - a province that in terms of income is poorer than Bangladesh but in ethnic diversity is one of China's richest. Guizhou turns out welcoming, beautiful, very mountainous, and the coaches of tourists disappear from view - we're happy.
See "Tribal China: surviving modernity".
–5 - 9 April - entering Hunan province After a technical stop in Liping due to problems with the bikes (gear cable snapped, chain coming apart), we carry on across Guizhou but start heading towards Hunan - it's beautiful here, but too mountainous to advance at any serious pace. People are extremely helpful in giving us directions across the little roads marked only with Chinese signs - one man recommends we take the road through the town of Huitong on our way to Huaihua. We follow his advice and end up being taken to a police station the same night for lengthy questioning - Huitong, it turns out, is inside a zone closed to foreigners. We are escorted to a bus and sent out of the "zone" the next morning. Such "closed zones" are a common problem for cycle tourists in China, and it is very difficult to find out where they are located before actually entering one, at which point it becomes obvious when the police arrive for you at your hotel. – 10 April: Fenghuang - tourist town After our little run-in with the forces of order in the wilds of the countryside we are safely back in tourist-ville. The town of Fenghuang has almost zero resemblance to a real Chinese town - but it is pretty. Cute traditional wooden houses overlooking a river, red paper lanterns, Western-style coffee shops, souvenirs, disco music playing on into the night. Lots of Chinese tourists. It's been a while since we've seen other Westerners, and we finally find some in Fenghuang. Kevin, Brian, Teresa and Rupert are American students on a year-long Chinese language course in Beijing, who, like us, decided to go in search of the "real China." –11- 16 April: Mud overdose The next day we arrive Jishou, a town which our American friends had already warned us about (including an amusing anecdote about a child shitting on the pavement. We're getting used to that sight ourselves…) From Jishou, we hesitate between two routes and finally decide on a direct but mountainous road passing through the town of Zhanjiajie and Wulinyuan national park rather than the winding Route 207. Unfortunately, with more rain and roadworks, the road turns into mud. Between Cili and Lixian, over a distance of 100 km, we are forced to wash our bikes completely three times – that means with diesel, then soap, rinsing with water and oiling.
–17 - 22 April: Crossing into Hubei. We're back on Route 207 all the way Jingzhou – finally a wide, paved, flat road – and this time we're happy to stay on it. Goska's camera is broken for the fourth time, and we decide to make a detour by bus to the big city of Wuhan to find the official Canon repair shop. Back on the road, the camera blocks again after ten photos or so. Noooo! Goska goes back to the repair shop in Wuhan on her own while Herve explores the Three Gorges Dam nearby in Yichang on his own.
– 22 - 23 April: Three Gorges Dam (Yichang) - China. Just like the "Cultural Revolution" tried to erase 6 millennia of history, the Three Gorges Dam has already submerged 160 archeological sites and 130 towns and villages. Modern versions of the villages are being reconstructed higher up to house the 1.4 million displaced people. Going a little out of our way to see the dam was worth it, even if it is just a wall of concrete – there's not many 2.3km-wide, 100m high walls of concrete around. The Three Gorges project took 17 years to complete and officialy cost 25 billion US$ but the actual cost is likely to be twice as high. Many experts point out that several small dams with the same total output would have presented a cheaper, more flexible solution and would cause less damage to the environment and to local people. But China loves superlatives. This is THE biggest dam in the world, symbolically sending the Middle Country into the new energy era of the 21st century. When it is fully functional in 2009 the dam will have an output equivalent to 18 nuclear power stations - which hasn't stopped the Chinese government from signing a contract for the purchase of... 2 new French pressurised water nuclear reactors!
Northern China: from the industrial countryside to Beijing North of the Yangzi river, we enter a flat region which used to be the birthplace of Chinese civilisation and is now a strange mix of agriculture (wheat) and industry (coal). So far we haven't seen the over-polluted and over-populated China we were expecting. Maybe this time... We've abandoned the plan of cruising across the Three Gorges to Xi'an due to astronomic prices (cruise tickets start at around $100), lack of authenticity, and little desire to be sponsoring local officials. Our revised itinerary takes us more directly to the lovely industrial plains of the North across the provinces of Henan and Hebei, and allows us to reach Beijing earlier than we thought.


Read "China on red alert for emissions".
– 24 - 26 April: Jingmen - Xiangfan. A night in the little town of Yicheng convinces us that small towns are best: the little hotel is super-clean, the owners super-friendly, and the room is comfortable and cheap at 30 Yuan (around 3 euros). Our hotel is next door to a mosque, and there's quite a few veiled women in the streets. The next morning as we're leaving we hear shouting as a commotion breaks out around the mosque - a man is being dragged from the mosque to a police car; there are at least 20 police officers around him and people are protesting loudly. A policeman tells us to move on. We would give a lot to understand Chinese. From Yicheng the road takes us across Xianfang, a relatively prosperous city with a Citroen factory.
–27 April - 1 May: Xiangfan -Zhengzhou After a few days cycling through the patchwork of fields and polluted industrial areas that is the countryside here we reach another 'scenic spot' - Dengfeng, home to Kung Fu schools, Buddhist and Taoist temples. Determined to reach Beijing, we only stay there for half a day and quickly arrive in Zhengzhou, the capital of Henan province. The Yellow river is only 20 km North. It is in this unlikely area that we start sharing the road with more Chinese cyclists –on day trips to the next town or on the road for several days, and always in groups. We have seen a few local "sports cyclists" down south, but it's in the industrial North that cycling clubs seem to prosper.
Read "China pedals on" .
– 2 - 8 May: Sprint to Beijing We are cycling across a surreal landscape, one giant wheat field stretching across hundreds of kilometres, crossing bridge after bridge over dried-up rivers.
See "Eating Chinese: fuel for 1.3 billion".
We struggle to find hotels by the wheat-field motorway, look for places to sleep late into the night, finally find a partly boarded-up shack of a hotel where the locals buy us dinner. We cycle 155 km the next day - our record to date.
Strangely, things get more difficult as we approach Beijing. Registering with the police each night gets more complicated, until finally - two days from the capital, in Baoding - we are turned away from every single one of the ten hotels we try to check in to. The city is big, it is definitely not closed to foreigners - but the hotels only accept Chinese people, we are told by the staff as soon as they phone the police to register us. The only place we can stay charges 44 euros a night - too much. Finally, after hours of asking and waiting and as the last restaurants close their doors, the police take us to a hotel we'd been refused at before. It's bad and expensive at 150 yuan, but at least we don't have to sleep at the train station.
– 8 May: Arriving in Beijing We arrived in the capital across a landscape resembling a war-zone. Demolished buildings, long stretches of rubble, the occasional inhabited house. Around 30km from the city we cycled into "luxury apartment zone:" whole towns of blocks rising up from the rubble-dotted fields, high-rises with names like Victory Abode, Glorious Palace or even West Palm Beach (we didn't find the beach though). Our first impression of the capital itself is a meeting of extremes, a modern city and a Chinese village in one. The tall, modern buildings are separated by ridiculously wide roads and squares - the road leading to giant Tiananmen Square is almost the size of the square itself, with 12 lanes! But some of the gaping spaces between the high-rises are filled with mazes of "Hutong", charming single-story neighbourhoods with narrow winding streets that only bicycles pass through. Unfortunately, some of these are being razed as Beijing gets modern for the Olympics.
See "China: Destroy and reconstruct".
– 9 – 19 May: Stay in Beijing. We visit the Western Academy of Beijing, an international school, and swap stories and advice with four other cyclists staying at our youth hostel as we wait for our Mongolian visas. The bikes need some serious servicing before we plunge into the wilderness of Mongolia. After three days we are lucky to be invited to stay at the house of Odile Pierquin, who teaches Chinese at Beijing's French School.
Read "Beijing: Dirty on the outside, clean on the inside?".
– 22 - 26 May: Mountains again! Just half a day's cycle out of Beijing we find ourselves surrounded by beautiful green hills, as the last factories disappear on the horizon. Despite Odile's meticulous directions, we manage to get lost and end up cycling up a very big hill only to be told by locals that we have to go back down. But the views as well as the hilltop village of Miaofengshan are splendid so we don't complain. In fact, the hilly area north of Beijing turns out one of the most beautiful places we have been in China. We cycle through green hills and orchards and spend the night at the holiday home of Arnd, a German friend of Odile's who generously invites us to stay without actually having met us. It is instantly obvious to us that Arnd chose his location well – the ancient walled village of Zhenbiancheng is surrounded by orchards, hills and is within walking distance of the Great Wall. And not a tourist in sight… The rural Chinese idyll continues the next day as we ride down the hills straight into a field of wind turbines – more than thirty of them, their blades swishing above our heads in the strong wind. We are brought back to earth with a bump, however - on the other side of the wind farm we find ourselves back in the good old Chinese industrial countryside, breathing coal dust as we join a stream of lorries. The people running the coal-smeared roadside hotel we stay at are incredibly welcoming and helpful – much friendlier than hotels at "famous scenic spots," as is so often the case. A couple more days with the lorries take us to Zhangjiakou, where we happily leave the main road.
Inner Mongolia: another world
New faces, new food. a new language and - most importantly - a new climate awaited us in this country within a country. But Inner Mongolia doesn't just feel like a different country to China - it's a different planet altogether. Leaving Zhangjiakou is like leaving a port on the Chinese "mainland" for a sea of wind-swept steppe, where we are rewarded by the beauty of the landscape for what we lose in comfort. Winds strong enough to blow your head off - apparently strong even by Mongolian standards - accompany our first days in the desert, magnifying the contrast with China.
– 25 - 28 May: entering the Gobi desert
The Gobi takes us by surprise from the beginning. First of all, we didn't know it would start so soon – just out of Zhangjiakou the landscape changes drastically and suddenly we're cycling through dry, empty fields. We are hit by head-on gale-force winds that rub sand in our faces – the wind and sand storms we have been warned about. The "town" of Gonghui we see on the map where we plan to spend the night turns out to be a tiny village, but we are relieved to learn that food and shelter are available, as it's a cold and windy night out there. The cold northerly wind continues for two more days, and has us moving at 5 km/h or even pushing our bikes at times. We move through barren fields which the Chinese are apparently farming – although we don't see anything grow, and it's hard to imagine it given the climate. But the soil has been ploughed and little groups of people with spades crouching against the wind are proof that the fields are being cultivated. The ploughing quite clearly adds to the sand storms.
– 29 May - 2 June: Xianghuangqi - Erlian
The little towns we stay in feel like colonial out-posts, and get fewer and further between as we move into the desert. Somewhere after Xianghuangqi when the wind is particularly strong we are stranded far from any town or village and end up sleeping in the barn of a family of Mongolian sheep herders. It is very cold outside and we really appreciate the tea, food and shelter they give us. They invite us to sleep inside but the house is very small, so we say we're happy to sleep in the barn, which is comfortable and warm. The next day the wind eases up, although it is later replaced by rain. In the desert! We are not lucky with the weather, we tell ourselves. Another two days of cycling take us to the Mongolian border at Erlian.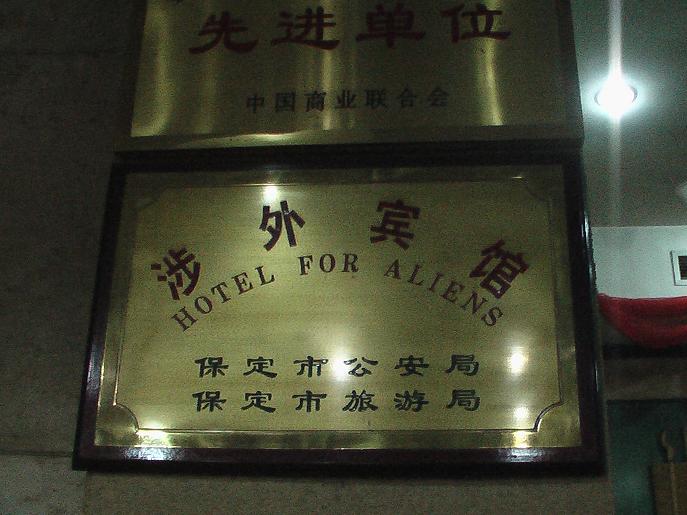 Your messages :