| | |
| --- | --- |
| | English / Spanish - click below |
China pedals on
27 May 2008
Our cycle across China comes at a time when many Chinese are swapping bikes for cars while the Western world watches in horror, prophesising climate meltdown. But the bicycle remains central to everyday life in China, although its role is changing - at least that is the impression we take away after almost three months on Chinese roads.
China is one of few Asian countries where people cycle for pleasure
The bicycle still serves as a cheap way of getting around and transport goods for China's masses, and for the time being the idea of every Chinese getting a car seems ridiculous; most people are very poor. Although the countryside is already spotted with brand-new four-by-fours and the biggest cities are filling up with passenger cars, two-wheel transport is still the most common: bicycles, electric and motor-bikes. But the bicycle has more functions than simply getting around. Cycling is now a leisure activity in China - not something that can be said of India (see "India: On yer bike"), or indeed any of the countries we have crossed so far apart from Thailand. Many rich Chinese abandon bikes for cars, and see cycling as the domaine of the poor - as our friend Julien, who sells anti-pollution masks in China, found. But groups of lycra-clad cyclists equipped with the latest gadgets are becoming a common sight on Chinese roads. This means that some of China's nouveaux riches, who have long swapped bikes for cars, are taking up cycling for pleasure. They are joined by weekend cyclists on everything from simple black city bikes to expensive Giant models. We even came across groups of Chinese cyclists who, like us, were travelling a considerable distance. And as many Chinese roads are equipped with wide cycle lanes, cycling in some parts of China, including Beijing, can be a relatively safe and enjoyable experience. If there is one sign of the onset of car culture that measures up to the horror stories it is the reign of the lorry on Chinese roads. Lorries are everywhere, bringing noise and pollution to roads through fields, towns and villages - as we can testify having spent most of our journey through China in their company. Cars in China must theoretically fulfil strict pollution regulations, but you won't see much evidence of this outside of Beijing, as manifested the blue and black lorry fumes we have been breathing for the last two months. Only remote places in China's deep south and backward provinces like Guizhou are lorry free. Some short-distance goods transport is still done by pedal power - and it's impressive what you can load onto a bike or a tricycle, as can be seen in the photos below. The overall impression we take away is that the bicycle is much more ingrained in China than it is in the West, and some of those who can afford a car continue to cycle. For the sake of everyone in China and outside of it, let's hope China's rich cycle culture will survive the monumental changes the country is undergoing.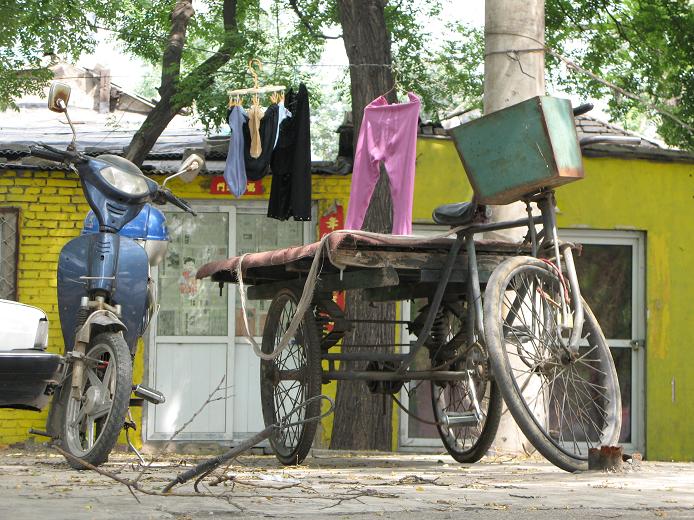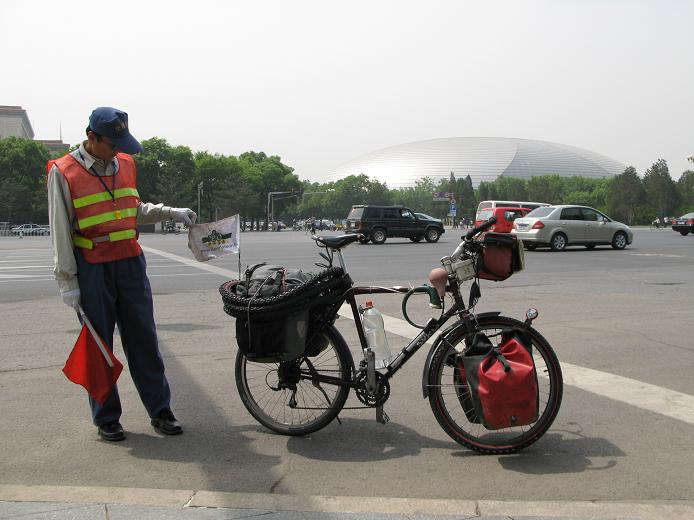 Your messages :