One wheel in Asia
12 July 2007
To cycle in Istambul you have to be crazy, broke, rich or French
Tropical heat, hard, hostile asphalt and friendly locals are a foretaste of what is awaiting us in Asia
When I grow up I'll have a big bike too!
After 62 hours spent sitting on trains the desire to get moving is irresistible. Stepping out of Sirkeci station straight into the heart of Istambul is a culture shock: even if geographically the city straddles Europe and Asia, Istambul feels a long way away from the Old Continent. Sumptuous mosques crowned by head-spinning minarets, a sea submerged in sunshine, the voices of imams booming out through speakers overhead calling to prayer, a city choked by crowds and colours, opulence and extravagance: welcome to the East!
Back in our saddles, more practical points impose themselves, the third logically following on from the first two: 1. it is very hot, even in the morning; 2. the streets are steep and bumpy; 3. we are pretty much the only two cyclists in view, except for an old man transporting voluminous bags. In Istambul, two world co-exist and overlap - those of cars and PIETONS. There is no place for cyclists. Having found myself on my bike in the narrow streets of the bazaar, filled with improvised stalls and an undulating, cosmopolitan crowd, then amid thousands of beeping cars on a five-lane road cutting through the city centre, I now understand why the locals prefer the modern trams and air-conditioned tube trains.
We have no choice but to stay five nights in the land of a thousand and one - the time needed to sort out visas for Azeraijan. While many tourists spent their time visiting the glittering palaces, or getting milked out of their euros and dollars in open-air cafes, we try to avoid these expensive passtimes. Instead of the standard boat ride on the Borsphorus we set off one burning afternoon to explore the strait by bike and ferry. Once on the Asian side of the strait, we follow the coast and an almost uninterrupted line of fishermen, enveloped in the ever-present smell of fresh fried fish. The Turks' enthusiasm for fishing is not matched by the catch - a few small sardines at the bottom of the bucket. Every now and again the line of fishermen is interrupted by a beach where children and young men swim in not-so-clean waters. The Bosphorus bridge, a real aerial motorway, hovers menacingly over our heads as we pass. Arriving in Beykoz, a town twenty kilometres from Istambul, we ask some locals whether it's possible to cross the strait from the local port. When our attempts at communicating in Turkish come to a standstill, they choose to take us to the ferry terminal - a 20 minute walk, but time does not seem a pressing factor in this seaside town.
Later in the afternoon, the temperature starts to get bearable. On the way back we find ourselves in the company of two young cyclists we had crossed earlier, one tanned, tattooed, shirt-less playboy-type, the other with a gangsta-style baseball cap and rucksac. We quickly make friends with Serdar, a postman on weekdays, and Kenan, whose profession remains a mystery as he does not speak English. As we approach central Istanbul the two "city-riders" accompanying us lead the way until Sultanahmet, weaving in between cars and ignoring red lights. Serdar impresses us with a few French words he learned from a French "girlfriend" back in the summer of 2000, while we try our Turkish: teşekkür ederim (thank you), adım (my name is...), bisiklet (bicycle), güzel (beautiful), güle güle (bye bye)... Despite some shortcomings as a form of urban transport in Istanbul, the bicycle turns out to be an excellent communication tool.
The following day we discover with surprise a bicycle-themed street near the train station: three shops almost next door to each other selling Turkish "Kron" bikes with made-in-Taiwan frames and Shimano parts. They offer quality machines for up to 650 euro to buy, or cheaper models to rent for 20 euro a day. The owner advises us to pedal around the touristic and car-free Princes islands. Could the bicycle be starting to become the new passtime for rich Istanbulians instead of a poor-man's means of transport? Despite the difficulties, we continue to parade our beautiful machines around Istanbul. Maybe we'll manage to make a few converts...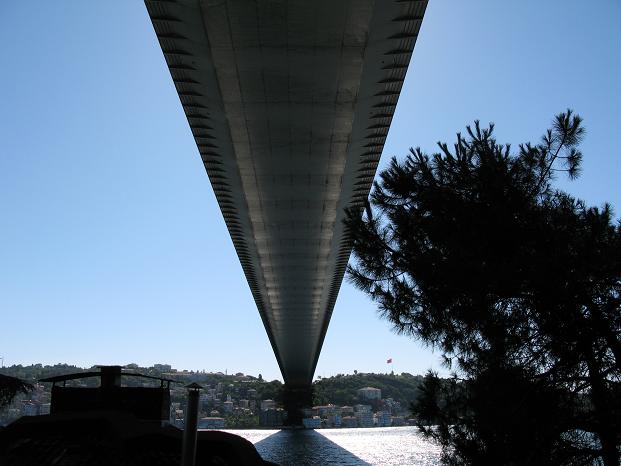 Your messages :