A week in the Kazakh desert: water and sun…
30 July 2007
Having left the oasis city of Aktau with its nightclubs and barbecues on the beach, we are now cycling along the unending roads of the Kazakh desert.
500 km, 40 ºC, 10 litres a day each: three numbers that summarize our first week of cycling.
"I'm a poor and lonesome cyclist…"
Pedaling across the desert, you learn that water is a valuable commodity. Our bicycles are like camels - full of stock while waiting for the next refueling. Kilometer after kilometer, we are completely surrounded by desert. With our faces being covered with suncreen, dust sticking to us, a turban instead of a helmet and a throat in search of liquid, we believed that we had returned to the era of the great explorers or the middle of a Sergio Leone film. Even if trucks replaced caravans and stagecoaches.
The spirit of solaridarity has remained the same. Several times on the road, other travelers have stopped to offer us tea, bottles of water, iced juice, or shubat. However, white gold is more rare than oil here. In Aktau, Kazakstan's version of Dubai, water comes from the Caspian Sea thanks to a nuclear plant that removes salt from water. In particular in the desert, excluding the rare oasis where the only trees grow, water comes via a track or an acqueduct. Each drop is counted and people don't let the faucet run. And our trail, covered with empty plastic bottles discovered from trucks, ressembles a cemetary of thrist.
After our departure from Aktau, we have followed the asphalt across the mountainous relief to finish on a narrow, flat and rugged path. We run alongside a gas pipeline, but a more ecological energy alternative - maybe something too obvious for the residents who have thought about it - comes from above: why not use solar energy? With our pocket solar panel, we don't miss an opportunity to spread pro-renewable energy propaganda at each meeting.
Following a stop in Beyneu, the desert continues on the Uzbekistani side. Our next stop is Karakalpakstan.
Translated by Rashaad JORDEN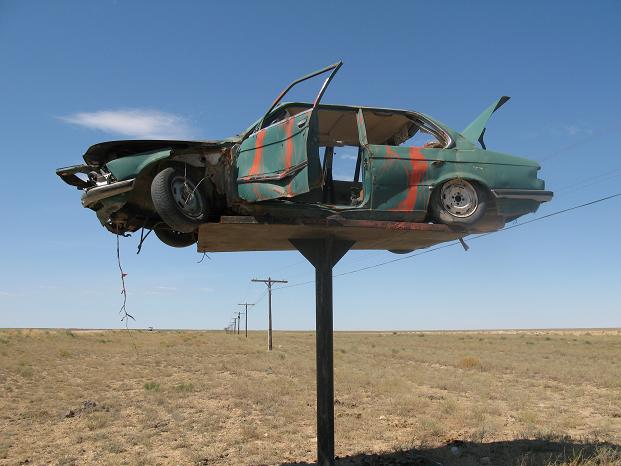 Your messages :