Rural Uzbek life: big family, few external needs
17 August 2007
A small, simple world, Soviet-style: life is good on the farm
Following an encounter with a local cyclist and his broken chain we were invited into an Uzbek family farm, and learnt about its inhabitants' nearly self-sufficient existence.
Chain of solidarity - helping fellow cyclists repair their Chinese bicycle
What a relief to see water, trees and people after days on end of desert inhabited only by camels, thorn bushes and lizards. From Qongirat to Nukus irrigation has transformed the desert landscape: canals overflowing into marshes, cotton fields of a real countryside green, made even greener by the sparkling blue sky. The peasants straighten their curved backs to salute us as we pass. Most people get around by bicycle here, but ours definitely attract attention.
Suddenly - a broken chain falls to the ground... luckily not ours, but belonging to one of the clin-clancking old bicycles that accompany us every now and again for a few kilometres, mostly to get a better look at us and to interview us along the way. Having benefited from others' aid and generosity in the desert, we are happy to return the favour by helping our fellow cyclists in need. "It's always like that with chinese bicycles," they explain. "They're cheap, but worthless." Russian bikes were much more reliable, they add - but are now impossible to find on the Uzbek market. I take out my arsenal of bike tools, but we are quickly disappointed - the chinese chain is far to thick for our japanese tools. Finally they improvise a solution using an old bit of wire and our unlucky cyclist, Zarin, is all set to go.
When we met him, Zarin was coming home having repared a gas leak - his second job besides farming. He seemed overjoyed to have met us and invited us home "to be his guests" and have dinner with him without hesitation. We swiftly accepted as it was almost mid-day, and a few kilometres down the road found ourselves in a rural "idyl" our grandparents might have told us about: an earthen house with a fireplace outside, a wooden stable covered with a straw roof, a hole-in-the-ground toilet at the end of the garden fertilising the soil for abundant fruit, vegetables and cereals.
Almost everything here is produced locally. Cow's milk is used to make cheese which drains in cloth sacks, but also half-liquid "butter" conserved in jars. Rice comes from neighrouring fields: they gather what the machines have left behind, for free. Their own modest cotton harvest serves to fill cushions and covers. Only tea, sugar, flour and salt must be bought. The women prepare plov - a traditional dish made from rice, carrots and meat - while we are taken to the guest room. The women only make sporadic apprearances to serve food. Goska tries to engage our host on some of the big problems of local agriculture that we are aware of: excessive irrigation and water availability, the reed-beds and the locust swarms they produce, massive scale pesticide treatment and pollution... We are astounded at his lack of awareness and interest; he just about knows what a locust is ("oh yes, I've seen one of those before..."). There is water but he doesn't know where it comes from. The plants grow but he doesn't know why.
The meal ends with the inevitable photo comparing session: those from our journey against those of Zarin's family. He gets our old black-and-white albums from a trunk at the bottom of a high pile of covers for guests: shool photos decorated with a potrait of Lenin, marriage photos, pictures of Zarin's late older brother from when he served in the army, and who died in a car accident later.
But it is already 5 pm and we have a hard time refusing his invitations of staying for supper and for the night, and freeing ourselves of even more friendly cousins and neighbours who all want to know more and demand to see more pictures. We could have undoubtedly stayed all week, lodged, fed and clothed by Zarin and his family.
Moral of the story: the less we have, the more we share?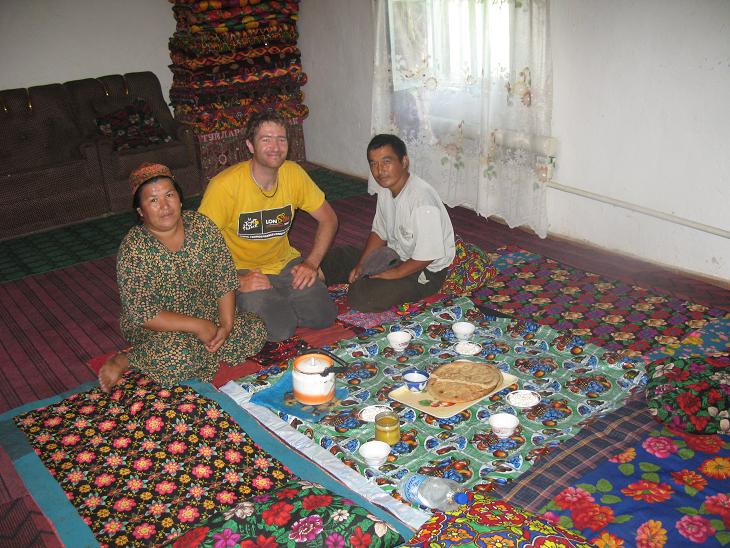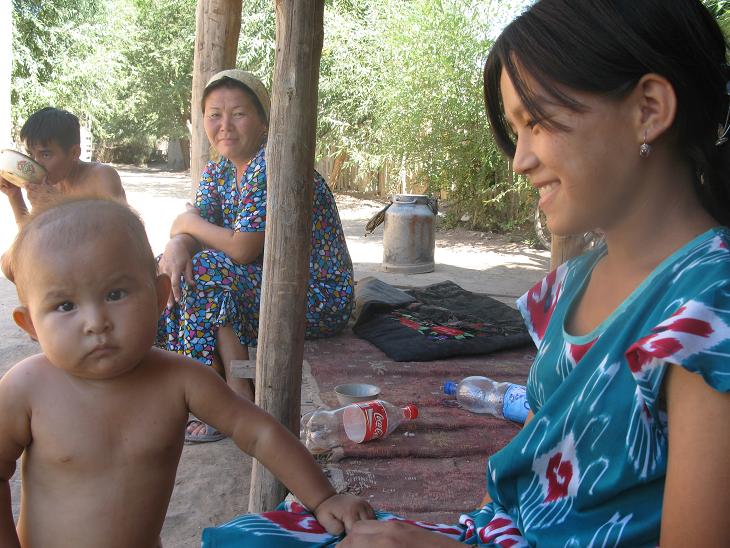 Your messages :