China's selective tourism policy
29 September 2007
TRANSLATED BY Rashaad JORDEN.Big brother in China keeps an eye on you and your vacations!
Our first experiences as independent Western travellers in the Chinese province of Xin Jiang
- Difficult to freely express yourself when wearing an anti-dust mask
"No Internet here for foreigners. It's prohibited because it's a border city. I'm sorry." That was the result when we asked the local English-speaking police officer after having been refused at the Tashkorgan Internet café by the receptionist who could only say: "Bu shi ma! Bu shi ma!..." (no!) This answer, unlikely in Europe, is not as surprising in China.
We've been traveling through the eastern part of the country by bicycle for only 15 days but several times, we've noticed these kinds of restrictions on our individual liberties.
During our request for Chinese visas, we were surprised by certain questions on the form : "Do you diarrhea? Do you have HIV? Are you a journalist? Do you have any contacts in the international media?" Happily, we were quickly reassured by the note on the bottom of the page: "If you respond yes to one of these questions, you won't be automatically disqualified from obtaining a visa." Among the trap questions they could have added: "Are you traveling by bicycle?" Don't brag about having cycled from Paris because you aren't the kind of average tourist that the authorities research. Manu and Steph, a couple of French cyclists, had this bad experience at the Chinese embassy in Tashkent. The officer in charge of the visas simply said to them: "No, that's impossible. There are no bicycles in China!" And he returned to his papers while completely ignoring them. They had to return in a different manner and without their faithful mounts to finally obtain their visas.
Border crossings are generally easier but still, all is subjective there. At the post office in Irkeshtam, where we returned to from Kyrgyzstan, our bicycles were accepted without difficultly. All travelers just had to go through a fever detector and get rid of their plants and fresh products. However, that's not the case in the Torugart Pass (the northern border with Kyrgyzstan) or the Khunjerab Pass (the border with Pakistan) where the roads are more or less off limits to bicycles, which must be loaded onto trucks or buses – a good way of making you spit out $40 again to thank you for your visit. Driving tourists (motorcycle or personal car) can obtain special permission at a travel agency.
Once in the country, the pressure only relaxes in appearance. The law prohibits locals from hosting foreigners at their houses. As a result, contact is limited to a strict minimum. "Binghuan you mei you? (Is there a hotel?)". Bu ya la! (I don't want spicy!)" On the road, they'll ask for your passport at each "check point" and they'll keep evidence of your passage. That's even the case in Internet cafes when they accept foreigners. In Kashgar, you must display identification before reaching the computer room. Mouse in hand, you feel free to communicate with the entire world. But no, there's another disappointment on the horizon: certain travelers' sites are blocked the government, including ours. Happily, there are ways of getting around of that. Sites that unblock like www.anonymouse.org allow any website to be opened (except the BBC news site which remains hopelessly frozen).
When leaving the country, customs searches can be rather pushy. Only because of a postal package, Daniel, our friend with a hidden bicycle, had to display all of his belongings. Inside was a CD of photos that the inspectors asked to view in "exchange" for $ 200 of extra work. He finally chose to send his package to Beijing rather than to Germany (so it didn't cross customs) – even if it meant picking up the package later in his journey. A similar misadventure happened with our video cassettes leaving Uzbekistan, another very strict regime, but the police officer got bored at the end of the second minute of camels nibbling at thorns in the desert.
In several months, we'll pass through China's overpopulated coastal regions and without doubt, most touristy ones. Will the scene have changed? Will the Olympic Games prepare China to bring about true opening to outside tourism?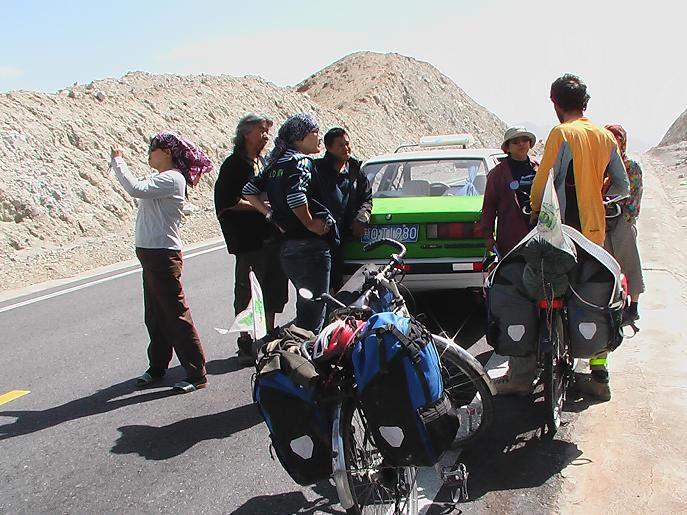 Your messages :