Cycle-tourist's heaven and hell meet in Pakistan
7 October 2007
Cycling through Pakistan during Ramadan, amid a rising wave of political protests and just before the presidential elections didn't seem like a good idea at first. It proved an interesting insight into the passions driving the country - and blocking its development.
Hunza - a cyclist's paradise
Well settled into the relative comfort of the Seman Hotel in Kashgar, a place full of cyclists, I wasn't exactly anxious to swap delicious Chinese food and freedom to dress in shorts for a veil and uninspiring lentil curries. However hard they tried not to discourage us, the cyclists who had passed through Pakistan painted a grim picture: conservative Muslim attitudes, and pretty bad food. Armed with a mix-and-match 'shalwar kameez' (Pakistani trouser-and-tunic combination) and veil donated by fellow cyclists Erika and Mandy, straight out of Pakistan, and having heard horror stories of men staring all the time and following you when you go to the toilet, I braced myself for the worst as we crossed the border at Sost... As it turned out, I was pleasantly surprised. On our first day in the mountains of Pakistan, we were welcomed by Zarina - smiling, bare headed, and with no qualms whatsoever about talking to strangers - despite being a woman. She was 25 and she did have 4 children, the first one at 16, but at least she was free to walk about and talk to foreigners if she pleased. She laughed and joked with us and invited us to her house before she went off looking for a cow that had strayed. Zarina wasn't the only 'liberated woman' here - in every village we were greeted by smiling men and women. This was not what we were expecting Pakistan to be like, not judging by the stories of women locked up at home and only let out in a head-to-toe burka. So where were all the extremists? We began to understand when in one village someone told us, "Don't worry, you are not in Pakistan, you are in Hunza." The Valley of Hunza, a real cycle-tourist's paradise, with breath-taking mountain views, a rich and colourful culture and friendly people, is inhabited by Ismaili Muslims - a much more relaxed form of Islam than the rest of Pakistan. All girls go to school here, literacy stands at 100% (compared to just under 50% for all of Pakistan), and living standards are relatively high thanks to the money flowing in from tourism. Unfortunately, just 100 km south of Hunza, the picture changes drastically. As we neared the province of Indus Kohistan, women gradually disappeared from the streets until we saw only bearded men and boys. Not only are women obliged to cover their heads here, they are not allowed to go out at all: for hundreds of kilometres, there was not one single girl or woman to be seen. Bombers even target girls' schools to prevent girls from being educated. And, as can be expected, foreigners and especially foreign women are not exactly made to feel welcome. Children throw stones at cyclists, and even staff at the hotels served us our dinner rather grudgingly. One Spanish cyclo-traveller was kicked off his bike, we were told, and a 70-year-old Italian woman walking in a village was pelted with stones by kids. Despite their severe expressions and scary beards, the men of Kohistan did help us out when we had a flat tyre. But overall, and after the alpine idyll of Hunza, this seemed like a different country altogether. Not surprisingly, such a welcome does not attract many tourists, who prefer to spend their holidays, and their money, in Hunza. How can such extreme conservatism literally border on peace and freedom? Can this really be one country? "Right now, we Pakistanis are looking for a reason why we are one nation," I was told by a Pakistani journalist in Lahore, on the day of the presidential elections, as political tensions peaked. "That reason used to be religion. Now we must look for new reasons." He dismissed the mosques full of faithful Muslims as appearances: "if people really are religious, how is it that we have 5000 prostitutes in this city?" Travelling through Hunza and Kohistan, one thing was clear to us: this country would develop much faster if more of it were like Hunza - peaceful, open and enterprising.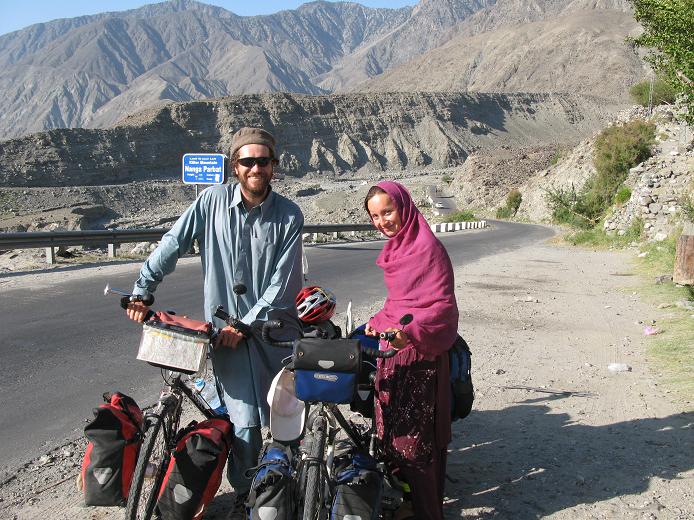 Your messages :