Roadside merchants - fair trade, local products
31 August 2007
Mountains of watermelons, piles of aubergines, cascades of red peppers... No, this isn't Saturday at the Sotteville-lès-Rouen market, but an ordinary day on the A373 which connects Tashkent with Osh across Fergana Valley.
Far from the luxury supermarket "Mir" in the capital, Uzbek villagers looking to get closer to the consumer lay out their products directly on the side of the road.
Fruit, at last!! We re-stock on vitamins after days of plov and shashlik..
Translated by Rashaad JORDEN
We had to cross the Kamchik pass at 2,267 meters high in the Tian Shan mountains along the Tajik border to discover the other side of Uzbekistani "El Dorado." The Fergana Valley, which is irrigated by the waters of the Syr Darya and benefit from a Mediterranean climate, is probably the most fertile region of Central Asia: the orchard trees bend under the weight of apples and pears while cotton fields already begin to be dotted white. The fruit harvest is placed along the road waiting for travelers searching for sweetened juice. The merchants are peacefully lying in the shade near the river on their tapchan, a sort of terrace covered in wood and serving as both a table and a bed. When our bicycles dropped by, they take out their lethargy and urge us to come taste their watermelons, usually "for nothing."
Fruits gathered at only several meters go directly from the producer to the consumer. Calculate roughly the distance traveled by an Equatorian banana sold at the Mir supermarket in Tashkent and the number of people having handled it. Compare also the authenticy of the human relationship and the price. You then understand why the Uzbeks prefer small businesses. In the big cities, the products coming from the countryside are distributed in the indoor markets and bazaars.
The incovenience of this diet based on local and seasonal products is the lack of culinary extravagance. Breakfast is always comprised of bread, tea, kefir and at best, eggs and sausage put together. For other meals, the choice between two main dishes quickly becomes tiring: plov (a mix of rice and carrots) or shashliks (brochettes without the meat of sheep, beef, or chicken). The only "exotic" ingredients are cola cola, chocolate, and canned fish, available in all good grocery shops.
Among the important goods from the Fergana Valley, cotton and silk are bound to be exported. The state then sets the sale price but that business is no longer truly fair.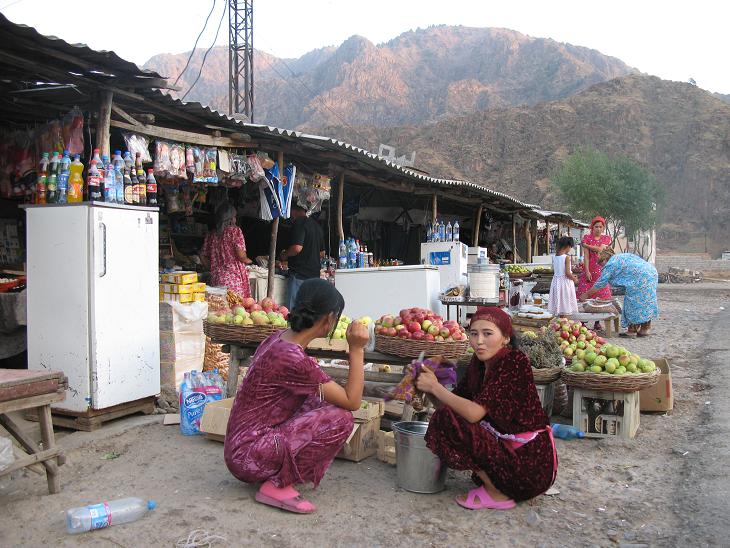 Your messages :