Over the mountains, no petrol
24 September 2007
From rice to renewables– a few thoughts on energy
Daniel the veggie German - powered mostly by bread and biscuits, but efficient!
Travelling by bike makes you think about energy differently – and nowhere more so than in the mountains. Crossing the towering Pamir range from Kyrgyzstan into China, descending into Kashgar, then climbing back up towards Pakistan, we now find ourselves among glacier-topped peaks over 7000m high once again. We hoisted ourselves and our bikes over these mountains, part of the Himalaya range, running on energy extracted from bread, cream and meat in Kyrgyzstan, then a much more varied diet of chow mein and other gems of the Chinese and Uyghur cuisines.
We used our solar panel to charge the cameras and travelled in the company of horse-riders, donkey carts and children cycling to school, all of them "food-powered" like us. Only the overloaded trucks and the occasional car battling its way along the bumpy track that forms the "international highway" joining Kyrgyzstan with China rely on petrol.
Crossing even a small fraction of a giant geo-political barrier like the Himalaya by bike makes you realise how new an invention fossil fuels are – and how easily we can get by without them. In Kyrgyzstan "alternative" energy sources were mostly limited to hay-powered transport - donkeys and horses - and dry animal dung burnt in stoves (there are no forests, and therefore no wood here). Over in China, the old and the new meet: think solar panels and micro-wind turbines on the roofs of mud huts, donkey carts overtaken by the latest models of japanese 4x4s.
Here are a few photos from our journey across the mountains – from hay to hi-tech... Spot the energy source!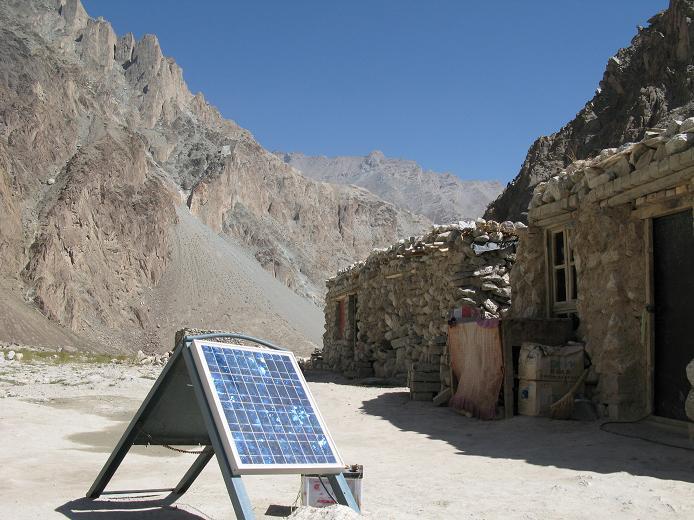 Your messages :